Fortsh*te anyone? I'm not sure this is really news, I just found it an amazing story and had to write about it. Thanks to the forum, Resetera, which has been home to endless controversy since it grew out of the death of Neogaf, we got this wonderfully hilarious and deeply saddening story: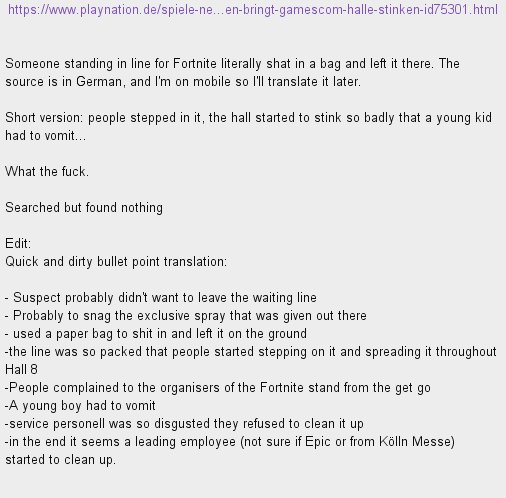 You can check it out directly here; the original story came from German outlet Playnation and can be found here. At Gamescom there is an incredibly impressive Fortnite booth. It features challenges for attendees to complete in order to unlock as exclusive in game Spray. It's hardly hands-on time with Sekiro or Biomutant but the whole set up is pretty cool. The challenges including riding a bull, an obstacle course, a zip line and more. It's really unique!
According to Playnation the line was so long that a boy sh*t in a bag. Then others stepped in it and stank out the hall. Given the fact that there are toilets everywhere in Kolnmesse this already seems unlikely. Luckily Epic's Nick Chester has made sure to clear the air.
I can't believe I need to tweet this, but this did not happen. https://t.co/P6n0hcatsM

— Nick (@nickchester) August 24, 2018
Thanks for the clarification Nick. The story actually picked up huge traction on social media with people believing that someone had sh*t in a bag. But there you have it. There have been no poos in bags at Gamescom 2018.
For all the news on Gamescom 2018, stick to thelootgaming.com.