Monkey?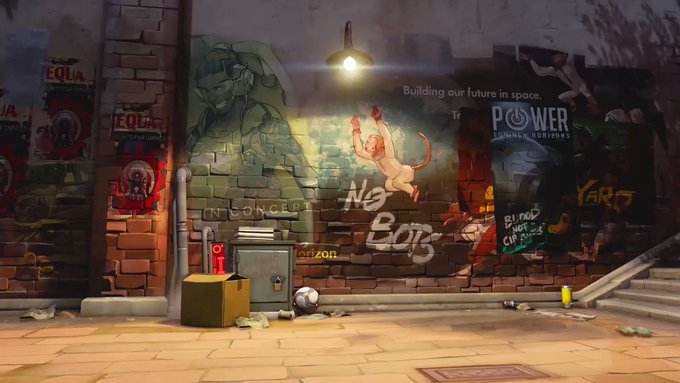 A couple of days ago, the official Overwatch Twitter put a teaser video on their Twitter with the caption, "Calm before the storm." After much speculation, it is believed that this teaser trailer could be announcing a new hero. This teaser trailer takes place in King's Row map, but while it is a video, it is just showing a still image with some audio.
The shot depicts an alleyway with a picture of an existing Overwatch hero, Lucio, but next to it shows a monkey with the word Horizon. Also prominent in the image is the caption, "Building our future in space," which leads me to believe that this is referencing the character featured in some of the lore, Hammond, who is a monkey. He has been speculated since the release of the map Horizon Lunar Colony, where it is learned that the existing monkey hero, Winston, has siblings also on the Lunar Colony.
This colony is part of a way for humans to move to a new frontier in space for the future after the Omnic Crisis that set up Overwatch's game. While this could mean nothing, it is very odd as to why this trailer is a video, as it is a still shot image. Blizzard is usually a minimalist company when it comes to their teasers for new content, so the city noises and machinery in the background have to mean something. While this may relate to the new hero, Reddit user Anarchoholic shares his discovery of hidden vents in the testing servers for the Horizon Lunar Colony map, while another Reddit user, Xtekox found separate vents in the rework also. This also relates to some things hidden on a computer screen on the map, where it says that there are strange noises in the vent system. While all of Winston's family is considered to be dead, Hammond could still be living inside of the vents, and he could come out sooner than we think, as Overwatch had nothing to present at E3, they may be saving their best surprises for after the show.
This is still really early development for Hero 28, and The Loot Gaming will keep you updated with all of the information on the way.